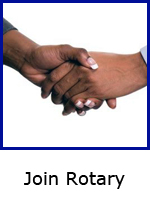 New Member Application- Get Involved

WELCOME TO OUR NEWEST MEMBERS!
Thomas Friedberg

Senior

Managing

Director

Boustead Securities

Michael Payne

Community

Relations

Director


Prestige Assisted Living and Memory Care


Michael Brown

Attorney
HOW DO I JOIN VISALIA ROTARY
Have a couple hours to kill? Just ask any Rotarian what Rotary is about!
As the second largest club in our district, of 57 clubs, there is something fun to get involved in every day at Visalia Rotary.
People join Rotary for a variety of reasons; Having fun, Giving back to others, Friendship, Networking, Personal growth, Business growth...
Whatever the reason, you will find it here. Just as you grow, your reasons will change, but you'll stay.
A prospective member must be a leader in good standing in the community, be able to manage your own time, and be sponsored by a Rotarian.
Complete the application above. We would love to get to know you! If you would like to come join us on a Wednesday afternoon contact us. We'd love to get to know you.