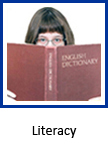 Each year the Rotary Club of Visalia leads the other Rotary clubs in town to provide every third grade student in Visalia a personal dictionary of their very own.
(click on photo for larger view)

Rotarian Sherri Smith and Fred Lobue hand out dictionaries
at Annie R. Mitchell Elementary School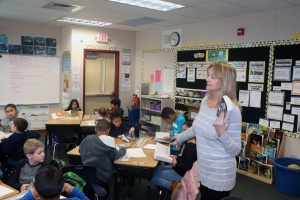 In 2019 Visalia Rotary Clubs handed out over 2000 dictionaries to every third grader in the 25 elementary schools (also 79 teachers).
Many educators and researchers see this as a key to better reading, speech, and writing. These skills will improve student performance in other subjects as well.
Receiving the dictionaries from Rotary members is beneficial to students as well. The young people meet successful adults in their community who care enough about them to purchase these dictionaries and come to their school to present them personally.
The brief explanation of Rotary service in the community and around the world gives students a lasting positive impression of Rotary and the ideal of service.
The more access to books at home the more a child will succeed.
EMAIL US WITH YOUR QUESTIONS
(Click on the picture)
LITERACY CHAIR
Erica Lutterbein