President Elect
DOUGLAS ARNOLD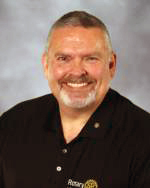 Doug Arnold joined the Rotary Club of Visalia in January of 2014 and was voted on to the Board of Directors the same year.

Doug was born in Woodriver, IL, spent his childhood in Edwardsville, IL, graduated High School in Saline Michigan. Attended Washtenaw Community College and Eastern Michigan University in Ypsilanti MI. Attended the University of Michigan in Ann Arbor, MI and finally the University of Colorado in Boulder, CO.
After twenty years in retail, Doug worked his way up from a stock boy to a National buyer for 18 stores across the U.S. in the Mercantile Corporation. Then he went back to his first love... I.T., where he started coding and ended up managing a system support and development division, with a company growth from 20 to 120 employees. He oversaw 3 million accounts and 8.5 billion dollars of assets.
In 2006 Doug started his own company ArnoldWebDev L.L.C. with a focus on helping people understand what I.T. can do for their business. At the same time Doug started teaching computer courses at two local Community Colleges.
The greatest points in my life has been marrying Dr. Jeanne Arnold and having two children; Zach (a junior at the University of Denver) and Madison (a junior at Redwood).
Finally in 2013 the Arnold's moved to Visalia where Doug continued his business and Jeanne works for Adventist in Henderson.
Doug was raised under the tenets: Courtesy, Integrity, Perseverance, Self Control, and Indomitable Spirit. These meshed perfectly with Rotary's four way test and motto: Service above self.
In addition to his personal and Rotary career, he plays the guitar, skis, lifts weights, bikes, camps, martial arts, and enjoys traveling nationally and internationally.