Meet the President
2019-2020
PAUL HURLEY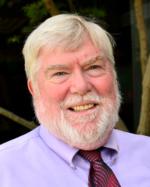 Paul Hurley joined the Rotary Club of Visalia in 2012 and was elected to the board of directors the following year.
Hurley retired in 2012 from the Visalia Times-Delta, where he had been an editor since 1990, including 19 years as Opinion editor.
Hurley was born in New York City, grew up in upstate New York and attended Boston College, from which he earned a B.A. in English. He returned to the area of his hometown and worked for several years as a child care worker before beginning his career in journalism with the Millbrook Round Table and Poughkeepsie Journal. He and his family moved to Visalia in 1990.
Hurley completed a 32-year career in newspaper journalism, in which he won a number of regional and national awards, including four Gruner Awards for public service journalism in the San Joaquin Valley.
Hurley teaches as an adjunct faculty member at College of the Sequoias.
He continues to serve on the board of the Kenneth L. Maddy Institute for Public Policy, the Tulare County Suicide Prevention Task Force, as a founding member of 210 Connect - the monthly public forum sponsored by First Presbyterian Church and the Visalia Times-Delta, the Visalia Education Foundation, as a volunteer with Boy Scouts of America, and as a planning team member of Tulare County Treasures.
He and his wife of 36 years, Pao-lin, have four grown children and one grandchild and make their home in Visalia.
Hurley has served on several Rotary projects and committees, including the Holiday Showcase, demotion, membership and scholarship committees. He was also a club representative for the water project that brought city water to a neighborhood in north Visalia.